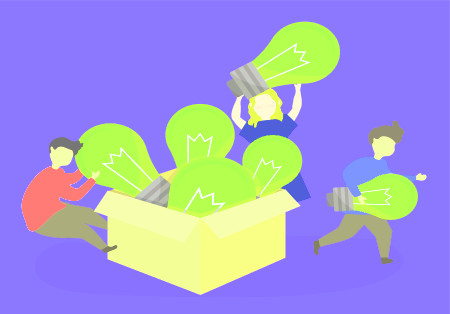 The "Phosphoriales" method is an original synthesis of a set of principles and tools inspired by Design Thinking and agility. It aims to develop a participative innovation dynamic in organisations.

It is presented in the form of an educational game accessible in the form of cardboard cards and a digital application.

It is structured in 10 modules, each corresponding to a key stage of an innovation process, starting with the search for an idea for a new product or service and ending with its launch on the market:

Icebreaker: Creating a connection
Inspiration: Finding a challenge
Empathy: Putting yourself in the shoes of the potential customer
Ideation: Combine, combine, metaphorise, etc...
Prototyping: Make a "martyr" model
Testing: Check whether this idea corresponds to a need
Structuring: Develop in agile project mode
Risks: Analyse the risks
Communicate : Selling your project
Animation: Managing a network of actors
Presentation of the e-learning system
For the moment, the certification is only accessible through a distance learning system.
The distance learning system is organised around 4 clearly identified sequences that can be followed sequentially or simultaneously:
Sequence 1: Individual discovery of the 130 tools of the method through a guided self-training approach based on 10 self-training modules completed by a series of memory anchoring quizzes.

Sequence 2: Participation in 5 collective experiential web workshops centred on real-life experimentation of the method using the Klaxoon, Mindomo and Ayoa tools (See the dates planned for the 3rd expedition HERE)

Sequence 3: Passing the certification (see the modalities HERE)

Sequence 4: Coaching of participants on use cases related to their activity
Purchasing conditions
The price of access to this programme is 540 euros net of VAT payable in cash or by subscription in 6 monthly instalments of 90 euros per month.

Participants who choose the subscription option will only receive the 4 card games after the 5th monthly payment. However, they will be able to use the cards in digital form on a dedicated application.

The Phosphoriales participative innovation animation kit includes:
Access to the 10 self-training modules
Access to the 5 experiential web workshops
Access to the certification process
4 sets of cards in cardboard version
Free access to the Smartphone application (valid for 1 year)
Free access to 3 shared ideation platforms (Valid 1 year)
(Mindomo - Limnu - Sparks)
Participation in 2 peer-to-peer practice sharing workshops
2 coaching sessions for the preparation of use cases related to your activity
An annual review of the method
Licence to use the brand and tools